01 Apr

Active April- 15 minute workout

Here at Complete Health Care Sunbury we believe that a healthy body = a healthy mind. This encompasses all aspects of our overall health and wellbeing. Including what we eat, if and what we do for exercise as well as maintaining our health through things like chiropractic treatment, massage etc. Exercising is so important for our overall health and wellbeing, but we do recognise that sometimes you just don't have time. Juggling kids as well as a full-time job we can sometimes forget to look after ourselves. The month of April is the Premier's Active April which aim is to promote physical activity for 30 minutes each day. The importance of physical activity for our mental and physical health is priceless. This initiative encourages Victorians to be more active and looks to promote healthy lifestyles. Our 15 minute workout program should help you jumpstart a healthier lifestyle.

Over the month of April we will be putting together little workouts, tips, and recipes that can help you in your quest to be healthier and happier. This exercise program you can use without a gym just in the privacy of your own backyard or a park close by.

Note: if you don't have a skipping rope you can run around your block or substitute it for burpees. Also if you have a dumbbell at home you can use this to make the workout tougher.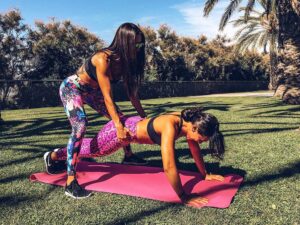 Circuit
1 minute skipping
20 squats
10 sumo squats (Feet set twice your shoulder-width apart)
15 pushups/ can go on knees
10 lunges each leg
10 dips (you can use a chair or a park bench)
15 step ups each leg (using chair or park bench)
30 second wall hold (bent knees)
Ab circuit
10 leg lowers each leg
20 seconds side plank each side
45 seconds front plank
50 Russian twists.
Repeat 3 times
This workout should take you no more than 15-20 minutes. You don't need any expensive equipment. Up the reps or sets if you think it's too easy! Have fun, and see how far you can push yourself! Also head to www.activeapril.vic.gov.au to sign up for special offers and to learn about the rules.