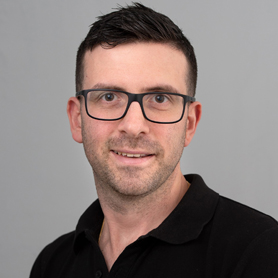 27 Aug

Dr. Martin Mamo

Bachelor of Science (Clinical Science) Masters of Health Science (Osteopathy) Level One – Trigger Point Dry Needling American Dry Needling Institute Certificate in Integrative Systemic Dry Needling in Sports Medicine and Trauma Rehabilitation.
Dr Martin became the owner and principle practitioner at Complete Healthcare Sunbury (previously known as Macedon Ranges Osteopathy) in July 2010.
Dr Martin has practiced Osteopathy in Sunbury since 2006.
Dr Martin has a strong interest in sport, general health and wellbeing.
Dr Martin has had previous experience with working with athletes at various sporting clubs and currently has the pleasure of treating some of Australia's leading athletes.
Dr Martin has also had the opportunity to study dry needling in America under the tutelage of Dr. Yun Tao Ma to further his knowledge and skills in Dry Needling.
Dr Martin is always keen to improve service offerings and treatment modalities. He is intent on the clinic being able to treat a greater range of medical and musculoskeletal conditions.