12 Apr

Cacao raspberry smoothie

We all know nutrition is the single most important thing for our bodies and maintaining healthy body weight. Smoothies are a great way to get a wide range of healthy nutrients into our body in one hit, ensuring you're putting the right foods into them. This cacao raspberry smoothie you can have for breakfast or even for a mid-arvo snack, just adjust the portions depending on your activity levels for the day. This smoothie has cacao which is a great magnesium hit as well as healthy carbs, protein powder for muscle recovery, which will also keep you full for longer as well as spinach which also adds that extra bit of green leafy vegetables.

What you'll need:
1 cup of water/ coconut water/ almond milk
1 tablespoon of cacao
1 scoop of vegan protein powder (chocolate or vanilla)
1 large handful of spinach
A handful of frozen raspberries
Pinch of cinnamon
1 tsp of mesquite (can omit if you don't have)
1/4 frozen banana (can add more depending on exercise level)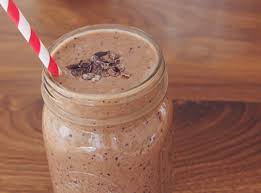 Blend all ingredients together in a high powdered blender and enjoy!