28 Oct

Quinoa Goji-Berry Porridge

Here at complete health care, we believe nutrition plays such a vital role in our overall health. This Quinoa Goji-Berry Porridge will provide you with long-lasting energy to power you through your busy morning!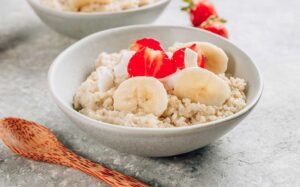 The Quinoa Goji-Berry Porridge Requires:
2/3 cup of quinoa flakes (Coles has a great organic range)
1 1/12 cups of water/milk
2 tablespoons of goji berries
1 teaspoon of cinnamon
1 tablespoon of shredded coconut
1/2 a banana
Handful of chopped nuts
If you like it sweet, you can add a small tablespoon of honey.
What to do:
Boil the quinoa flakes for about 8-10 minutes in a saucepan with the 1 1/2 cups fo water.
Transfer to a bowl
Add goji berries, cinnamon shredded coconut, and chopped-up banana. Stir through
Add any extra milk if necessary and top with some chopped nuts, more coconut, and goji berries.