16 Sep

Springtime Smoothie

Spring is finally upon us, and how delightful it is to see the sunshine. Some of us may be hiding ourselves under a little bit of a winter coat, but it's time to shed that coat as we prepare for some summer fun. We love the convenience of a springtime smoothie that is packed full of good fats, protein and carbohydrates. Smoothies are quick, easy and have great bang for your buck. We don't believe in the "smoothie" diet. But combining them with a well-balanced diet can be very beneficial for weight management.

This springtime smoothie is a great mix of carbs, protein, good fats and some sneaky green veggies in there also!

You will need:
½ ripe banana
⅓ cup blueberries
⅓ cup strawberries
½ cup kale leaves
1 tbsp ground flaxseed
Handful of spinach/kale
1 tbsp psyllium husk
1 tbsp chia seeds
1 tsp stevia/honey/maple syrup
½ tsp cinnamon
1-2 tbsp protein powder of choice
½ cup milk of your choice/ can use water/ coconut water
1 cup ice cubes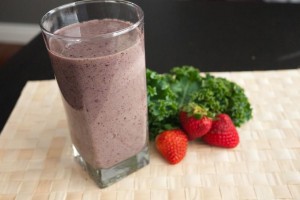 Place all the ingredients into a high-powered blender, blend until smooth and enjoy!